Coshal
Regular price
Rs. 2,099.00
Regular price
Rs. 3,799.00
Sale price
Rs. 2,099.00
Unit price
per
Sale
Enquire Now
Coshal Tribal Women Madin Working Brass  :- India is unmatched when it comes to kooky cuisine. And if you consider yourself an adventurous eater, there is one dish you really must try: Chapda, an odd chutney consisting of red ants' eggs and a local favourite in Bastar, Chhattisgarh.
Red ant chutney, known as chapda chutney, is thought to be not only nutritious but also a dish that wards against illnesses. Historically, the indigenous people have adjusted and changed their way of life to take advantage of the resources the forest provides. Even how they prepare their meals and their eating habits reflect their way of life.

The people here cherish and are proud of the 'Chapda Chutney' Hence, a depiction of the preparation of the chutney by a tribal is presented in the sculpture.
DIMENSION :- 3.2L x 4.7W x 8.4H 

 

inches 
WEIGHT :- 1040 gms
Share
View full details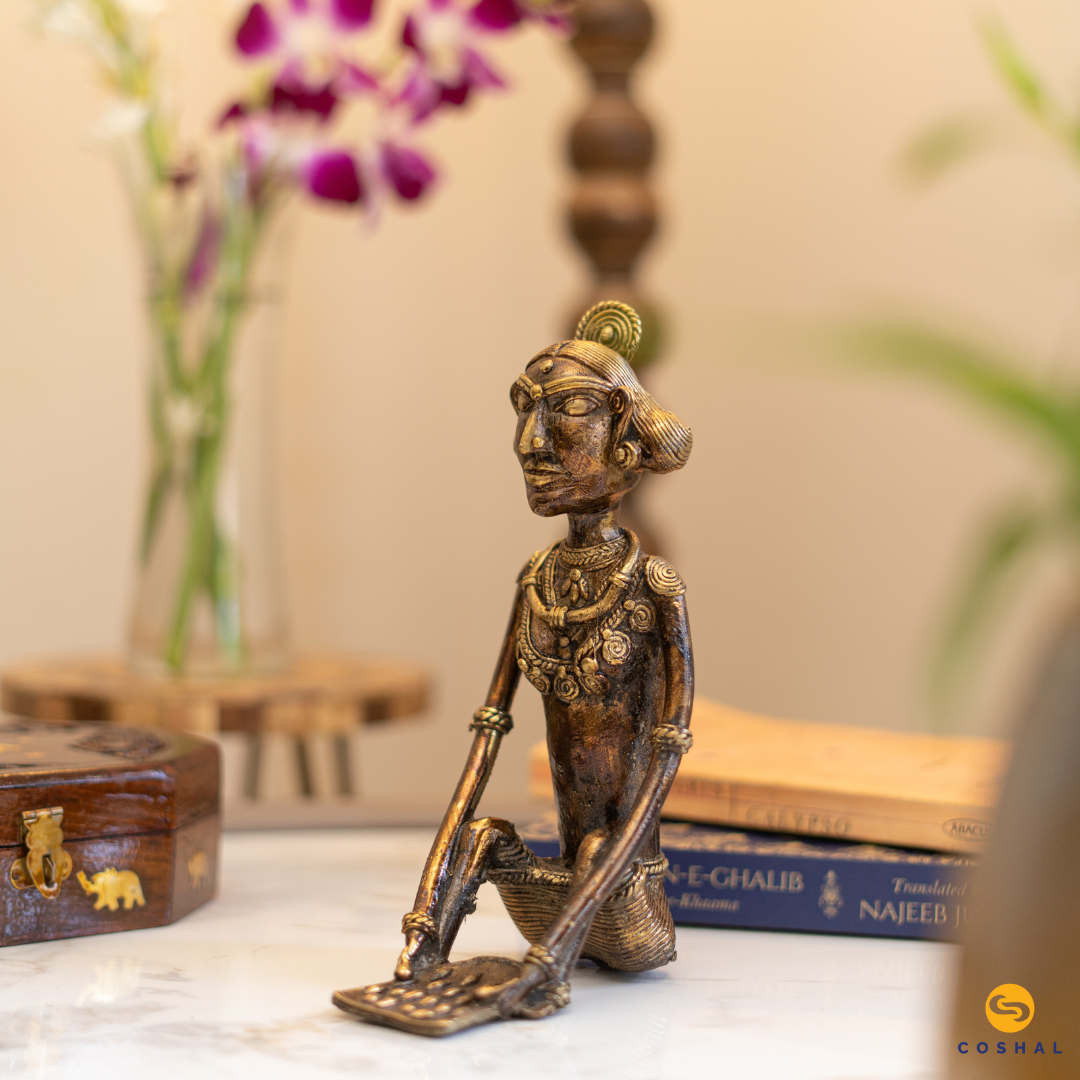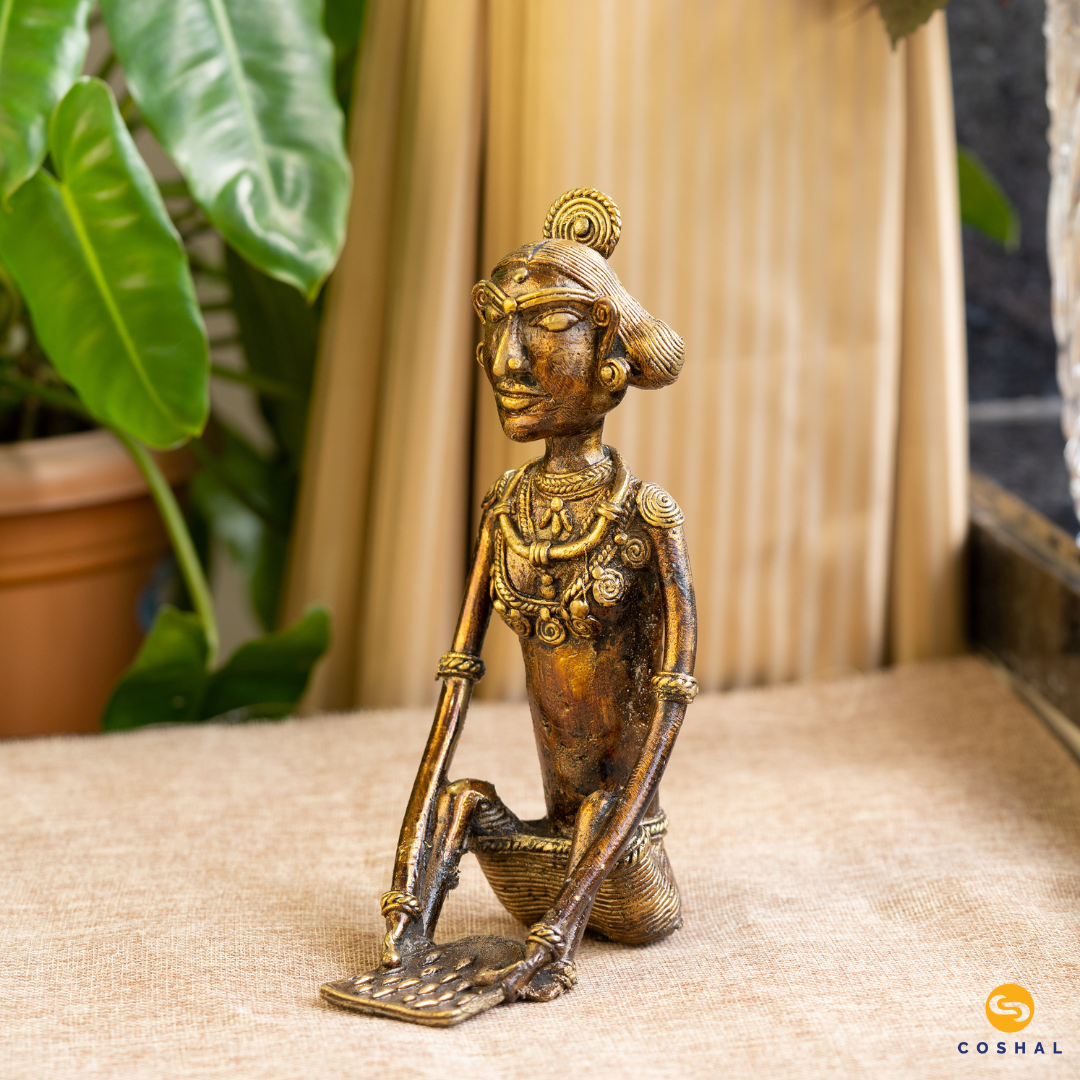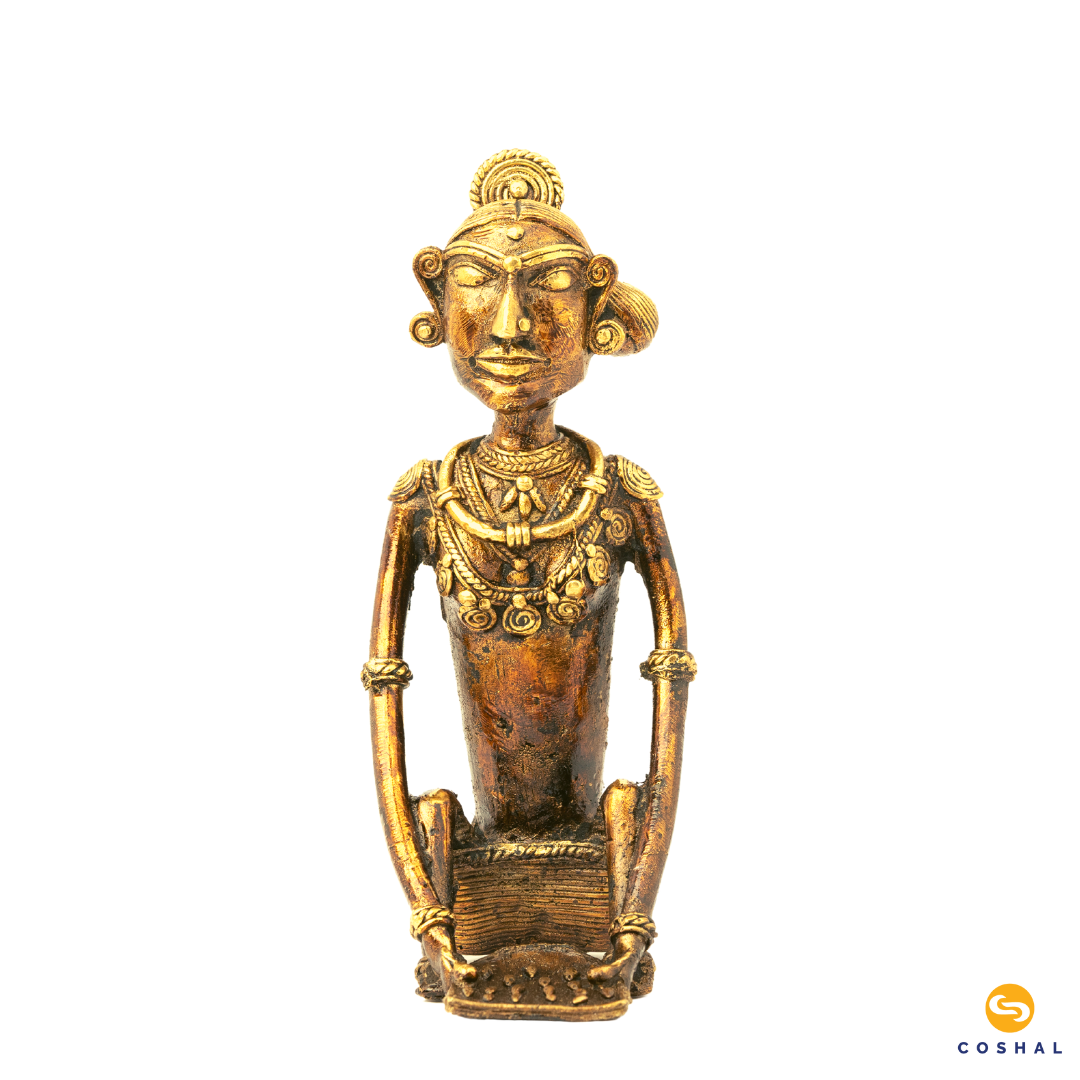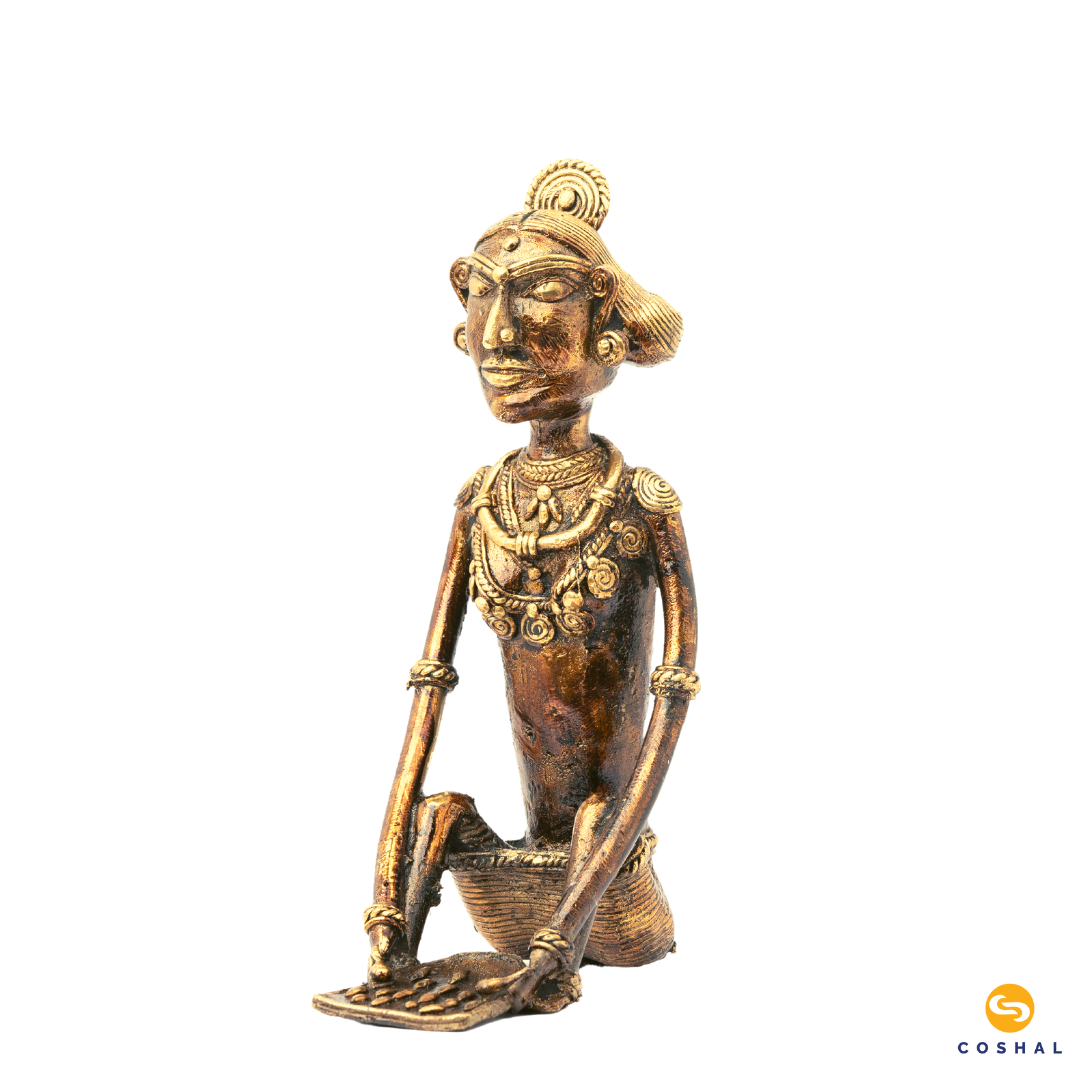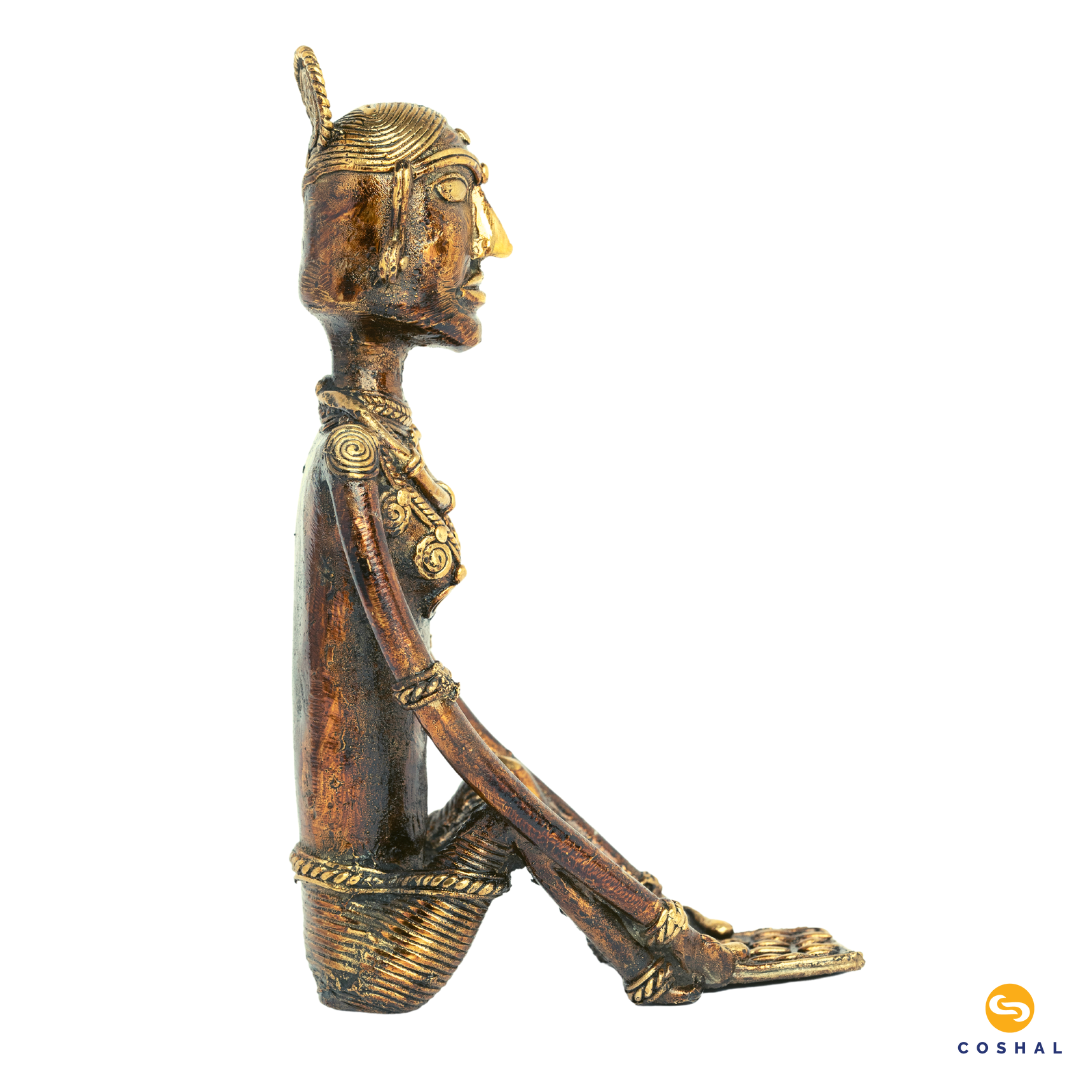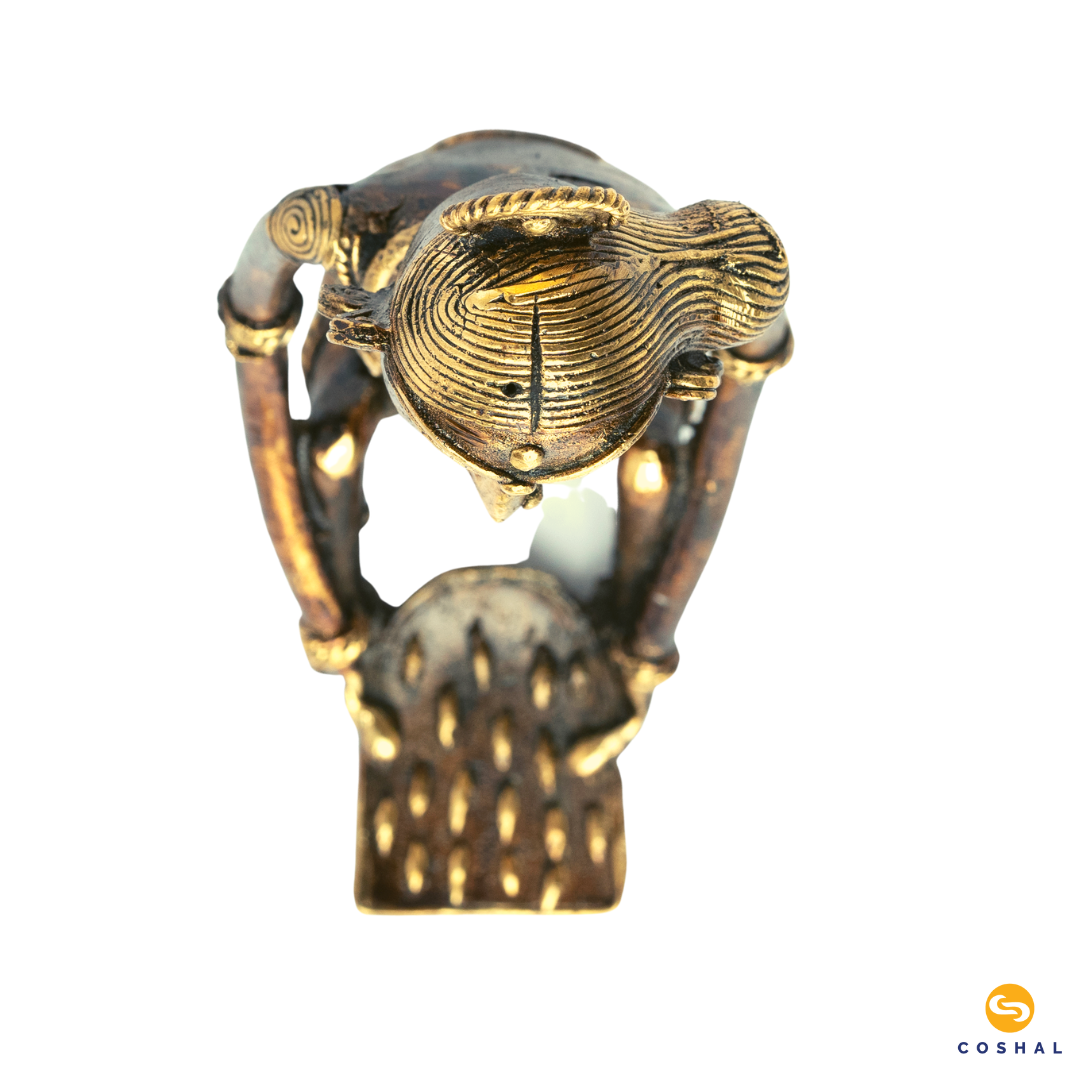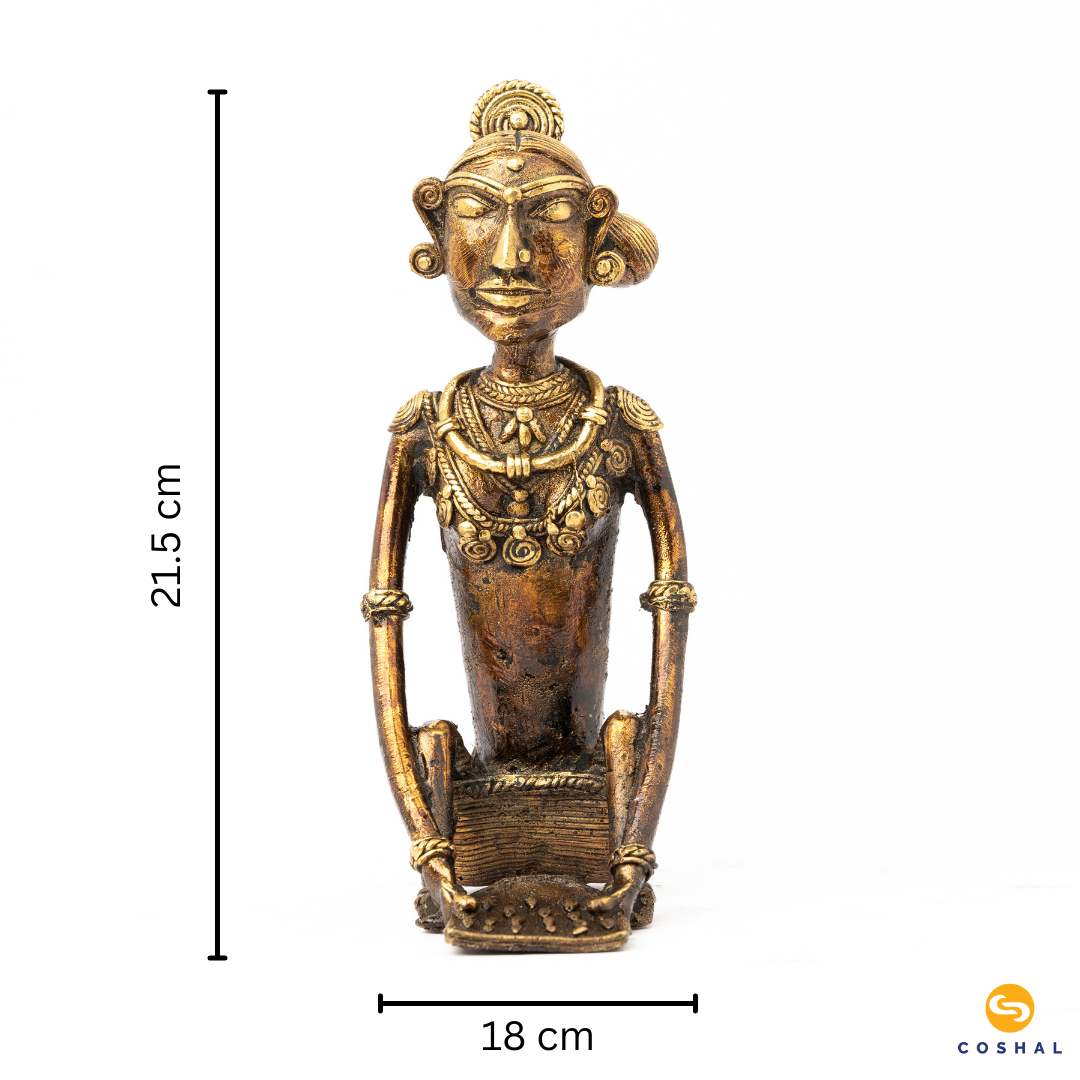 Beautiful product
Extremely cute and beautiful product.
Product Information
Highlights

1. Crafted By Tribal Artisans Of Bastar, Chhattisgarh.

2. Dhokra Art is also known as Gadhwa Kala in Chhattisgarh as it is formerly practiced by Gadhwa Tribe in Chhattisgarh

3. The artform has it roots from the age old lost wax techinique that was practiced during Harrapan age. Traditionally it is belived that Dancing Girl statue of Mohenjadaro as the first artifact made through this technique.

4. Scrap metal is used to create these beautiful artefacts.

5 .Every handcrafted Artefact made using this technique is unique on its own.
Maintenance

1.Use mul cotton or any soft dry cloth to wipe off the dust.

2.Do not use water.

3.You may use oil for shine.

4. Ocasionally use can use tamrind water or lemon juice over the artefacts to maitain its shine.

5. 4th point is exclusively for the non-coloured artefacts. For Coloured artefacts use can use the first three points respectively.
Crafting Technique

Dhokra Art, one of the oldest techniques of its kind, has been practised for nearly 400 years. This style is well-known for its primitive simplicity and recurring folk designs.
The artisans of Chhattisgarh follow a 13-step process. The base figurine is meticulously prepared with bees wax wires. The surface is then covered with a thick layer of clay, with an open hole on top. The wax layer is replaced by molten metal poured into the mould. Final finishing is completed once the cast is removed.
Shipping

1. We usally ship orders within 3-5 days of receiving an order.

2. However, if you order more than 5 pieces of each product and style, or if the item you ordered is in production, it may take longer to process your order. If this occurs, we will notify you via email.

For more details you can read our Shipping and Delivery policy.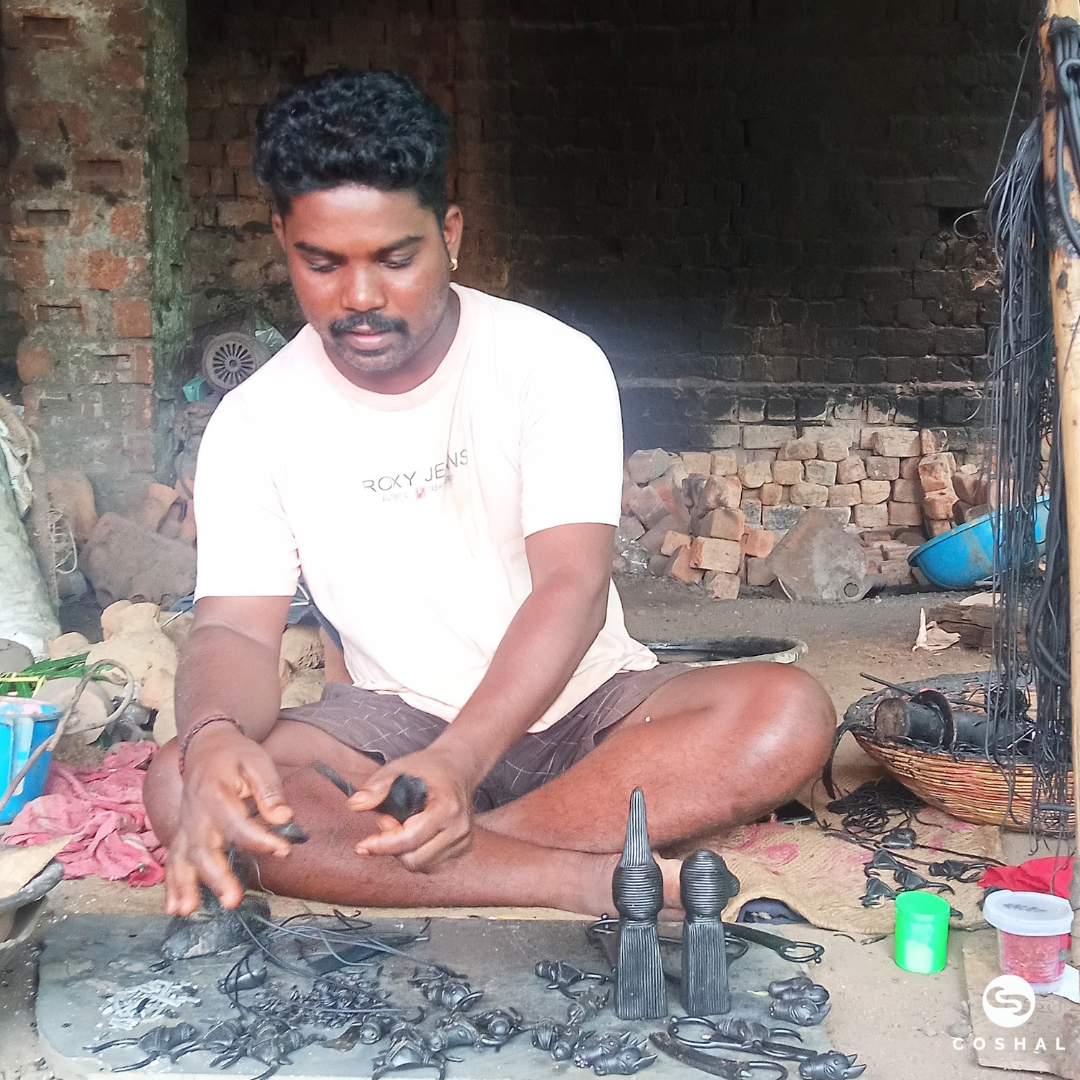 Meet the Artist
In the Maoist-affected Kondagaon region of Chhattisgarh, you will meet Vikas Baghel, a native of Bhelwapadar, Kondagaon. An upcoming practitioner of Dhokra Art/Garhwa Kala in Chhattisgarh's Bastar area.
Read More