Coshal Art
Regular price
Rs. 2,099.00
Regular price
Rs. 2,999.00
Sale price
Rs. 2,099.00
Unit price
per
Sale
Enquire Now
Coshal Tribal Couple :- Madia Madin is a tribal term taken from Abhujhmandh and is taken from the people of the place Abhujmadhiya. Abhuj means 'unknown' and Madiya refers to the people who live there. Madia is the word used for men and Madin for women. Abujmadia practices jhoom agriculture on the hills, also called penda agriculture. If the slope is unsuitable for agriculture, then it is left, and some other spot is chosen. In this way, the village settles in a new place. They raise poultry and extract sulfi from the Sulfi tree, which is an intoxicating beverage and is famous as Bastar beer.

They choose spouses during grand, elaborate dances at fairs. In groups, they dance in long and long rows. They do not have a high prevalence of child marriages. Marriage is often a choice they make when they are grown-ups. The practice of driving the girl away is prevalent.

This couple figurine is the ideal present for a devoted couple or newlyweds. A Figurine of Trible Madia Madin  symbolise the couple's special bond of love, faith, and trust. The perfect gift for an anniversary, a birthday, a couple's gift, etc., as well as for decor.
DIMENSION :- 2.5L x 0.8W x 4.5H inches
DIMENSION :- 2.5L x 0.8W x 3.9 inches
WEIGHT :- 350 gms
Share
View full details
Elegant and beautiful
Classy look and was really appreciated for the finish …..It's a fusion of tradition and modernity
Good article for home decor
Nice piece of art for home decor. Value for money.
Product Information
Highlights

1. Crafted By Tribal Artisans Of Bastar, Chhattisgarh.

2. Dhokra Art is also known as Gadhwa Kala in Chhattisgarh as it is formerly practiced by Gadhwa Tribe in Chhattisgarh

3. The artform has it roots from the age old lost wax techinique that was practiced during Harrapan age. Traditionally it is belived that Dancing Girl statue of Mohenjadaro as the first artifact made through this technique.

4. Scrap metal is used to create these beautiful artefacts.

5 .Every handcrafted Artefact made using this technique is unique on its own.
Maintenance

1.Use mul cotton or any soft dry cloth to wipe off the dust.

2.Do not use water.

3.You may use oil for shine.

4. Ocasionally use can use tamrind water or lemon juice over the artefacts to maitain its shine.

5. 4th point is exclusively for the non-coloured artefacts. For Coloured artefacts use can use the first three points respectively.
Crafting Technique

Dhokra Art, one of the oldest techniques of its kind, has been practised for nearly 400 years. This style is well-known for its primitive simplicity and recurring folk designs.
The artisans of Chhattisgarh follow a 13-step process. The base figurine is meticulously prepared with bees wax wires. The surface is then covered with a thick layer of clay, with an open hole on top. The wax layer is replaced by molten metal poured into the mould. Final finishing is completed once the cast is removed.
Shipping

1. We usally ship orders within 3-5 days of receiving an order.

2. However, if you order more than 5 pieces of each product and style, or if the item you ordered is in production, it may take longer to process your order. If this occurs, we will notify you via email.

For more details you can read our Shipping and Delivery policy.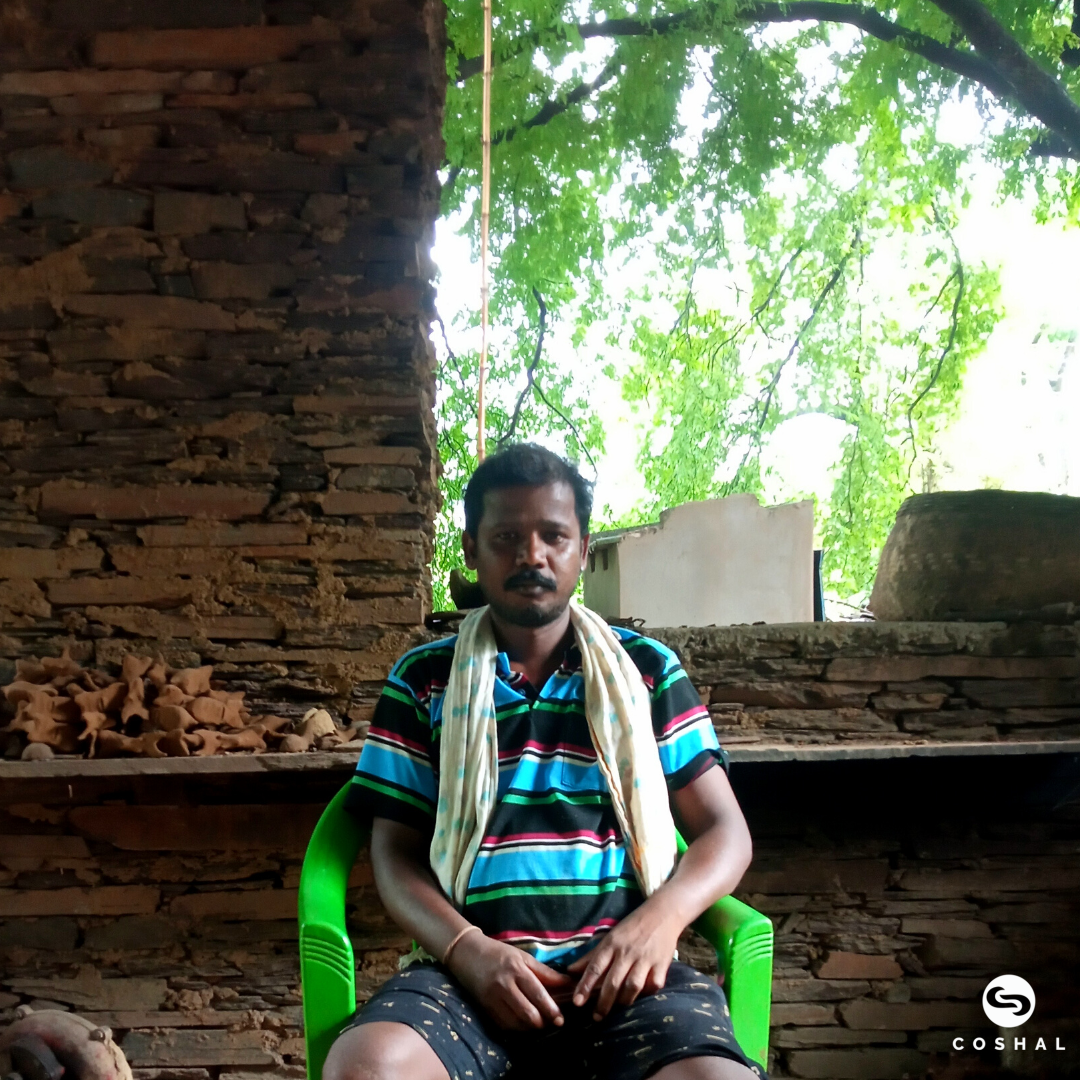 Meet The Artist
Amaram Kashyap resides in the small village of Arrakotte, located in the Tokapal block of the Jagdalpur District of Chhattisgarh. He was acclaimed for his exquisite miniature Dhokra sculptures depicting animals such as deer, elephants, camels, etc.
Read More