Coshal Art
Regular price
Rs. 2,099.00
Regular price
Rs. 3,200.00
Sale price
Rs. 2,099.00
Unit price
per
Sale
Enquire Now
Coshal Wrought Metal Joda Laman :- The religious landscape of India is incredibly diverse, and with it comes a wide range of wedding traditions. Tribal marriages often feature this JODA LAMAN artwork.

According to Bastar tribal marriage rituals, it is situated where the bride and groom can make a circuit around Agni. Hanging Laman Diya is made of wrought iron. Laman Diya is used by the Bastar people in the same way as Hindu couples get married in front of the primary witness of the fire deity. There is a wide range of Laman Diyas to choose from.
This artwork is perfect for candle stands and shows a charming and straightforward tribal way of life; it would make a thoughtful gift or decorative accent.
DIMENSION:- 16.5L x2W x24H inches
WEIGHT :-1230gms
Share
View full details
Product Information
Highlights

1. Crafted By Tribal Artisans Of Bastar, Chhattisgarh.

2. Original Name of Wroght Iron Art is Pitwa aur Loh Shilp Kala.

3. The artform is now practiced for more than 400+ years.

4. Scrap metal is used to create these beautiful artefacts.

5 .Every handcrafted wrought iron piece is treated with Red Oxide to avoid rust in future.
Maintenance

1.Use mul cotton or any soft dry cloth to wipe off the dust.

2.Do not use water.

3.You may use oil for shine.

4. Ocasionally use can use black oil based paint to maintain its shine
Crafting Technique

Wrought iron handicraft, also known as "Pitwa Art," is a centuries-old art form created by a small tribal community in Bastar, Chhattisgarh. They mostly use scrap or discarded iron pieces, cut them by hand with a chisel and hammer, and heat them with charcoal. Almost all of the human and animal figures are made from a single piece of sheet metal hammered by hand. Rivets are used to make a joint. No Welding machine, cutting machine, or mould is used to create an artefact, making it a true handicraft.
Shipping

1. We usally ship orders within 3-5 days of receiving an order.

2. However, if you order more than 5 pieces of each product and style, or if the item you ordered is in production, it may take longer to process your order. If this occurs, we will notify you via email.

For more details you can read our Shipping and Delivery policy.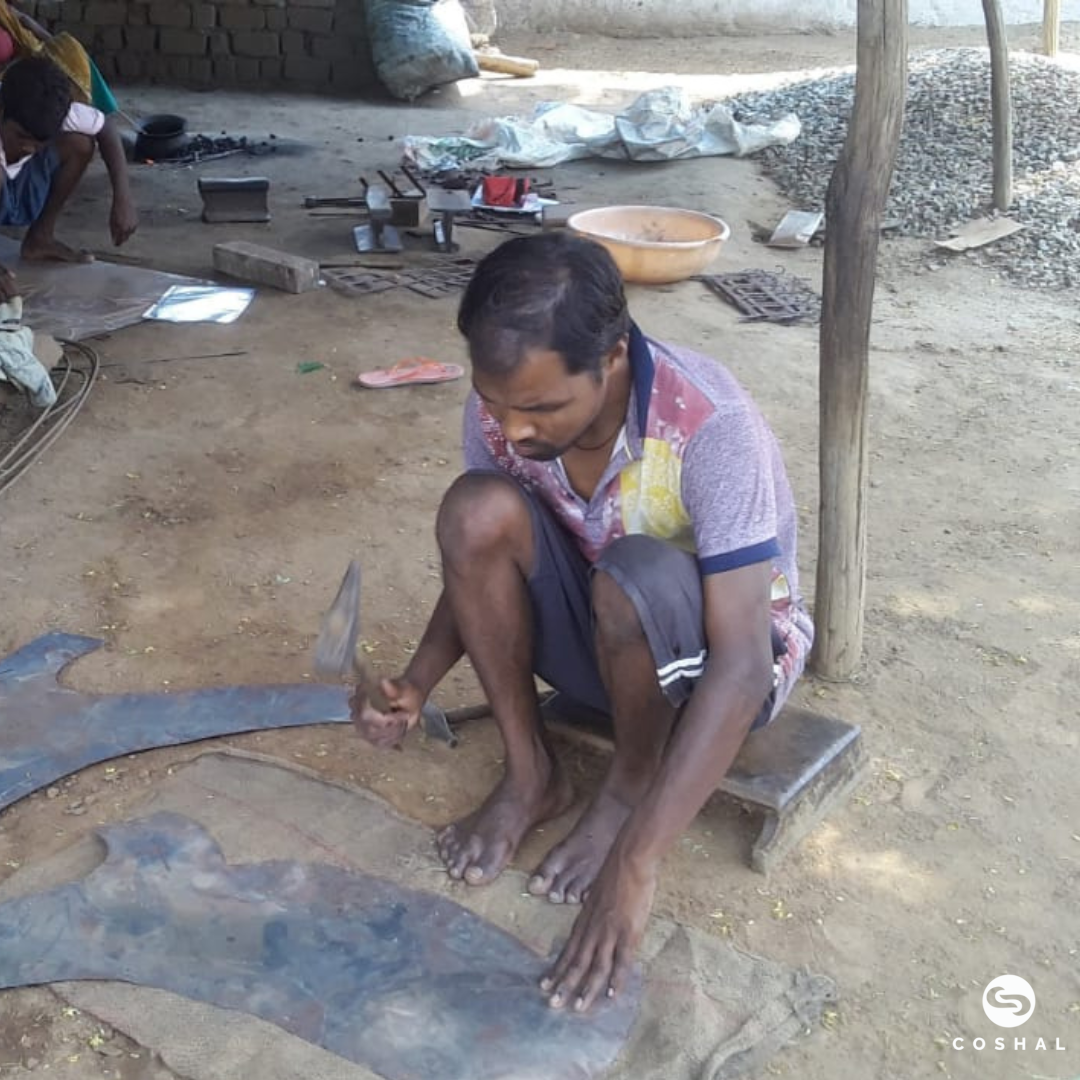 Meet The Artist
Sunil comes from the Kedeichepda village, located in the Kondagan area of the Bastar Region, and is well-known for its traditional arts and crafts. When Sunil was young, he began to use simple tools to bend iron rods into the shape of figures; his father eventually recognized the artistry in his son's work
Read More